Halloween is coming with many interesting activities. The decoration is one of them. Everyone wants to decorate their house in an impressive way that makes the house to be stand out this Halloween. There are a lot of outdoor decoration stores but the big problem is that most of these stores are keeping their decoration for display only or sale at expensive amounts rather than providing the best decorations for your house at an affordable price.
Luckily, there are plenty of Halloween decorations that can achieve this effect without much effort on your part. From creepy thrift store finds to simple home goods, you already own that just need a little tweaking, these best Halloween decorations will make your home feel like a haunted mansion in no time at all!
This is the perfect way to decorate your bathroom and give it a real festive feel. It has a spooky pumpkin background with a haunted house in the middle, complete with cobwebs and bats hanging from the ceiling. You'll love this splash of orange against your normal white shower curtain!
It's never too late to add some fun touches that will make your home more welcoming for friends and family during this time of year. The best part about buying this item is that it comes with an affordable price tag so you won't break the bank when adding it to your cart!
Related Articles:
20 Spooky Halloween Bathroom Decor Ideas That Might Scare Yourself
Top Halloween Costumes of All Time to Inspire Your Best Look Yet
This horror bat sky with rased bone Halloween shower curtain is a great decoration for your bathroom. The shower curtain is made of polyester, so it's strong and durable enough to last for years. This can be machine washed, so you don't have to worry about it getting dirty during the year. With this decor, you're sure to make your house look festive on this holiday!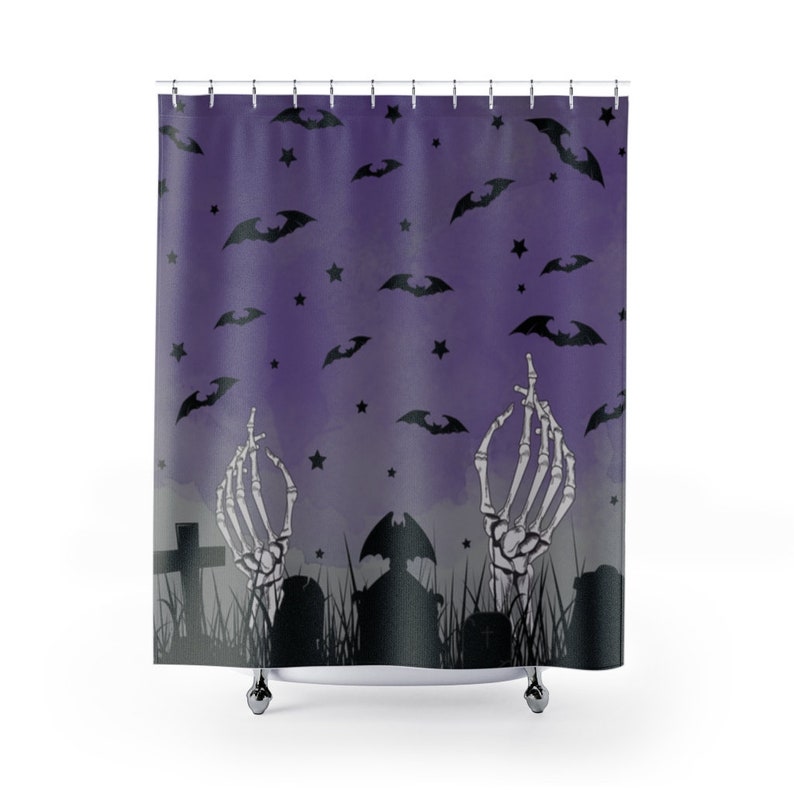 The Scary Pumpkin Man Halloween Shower Curtain is a great way to add a little Halloween fun to your bathroom. The curtain is 72″ x 72″ and is printed on one side only. It's made from 100% polyester and is machine washable.
If you want to decorate for Halloween, this shower curtain will be an excellent addition to your home décor!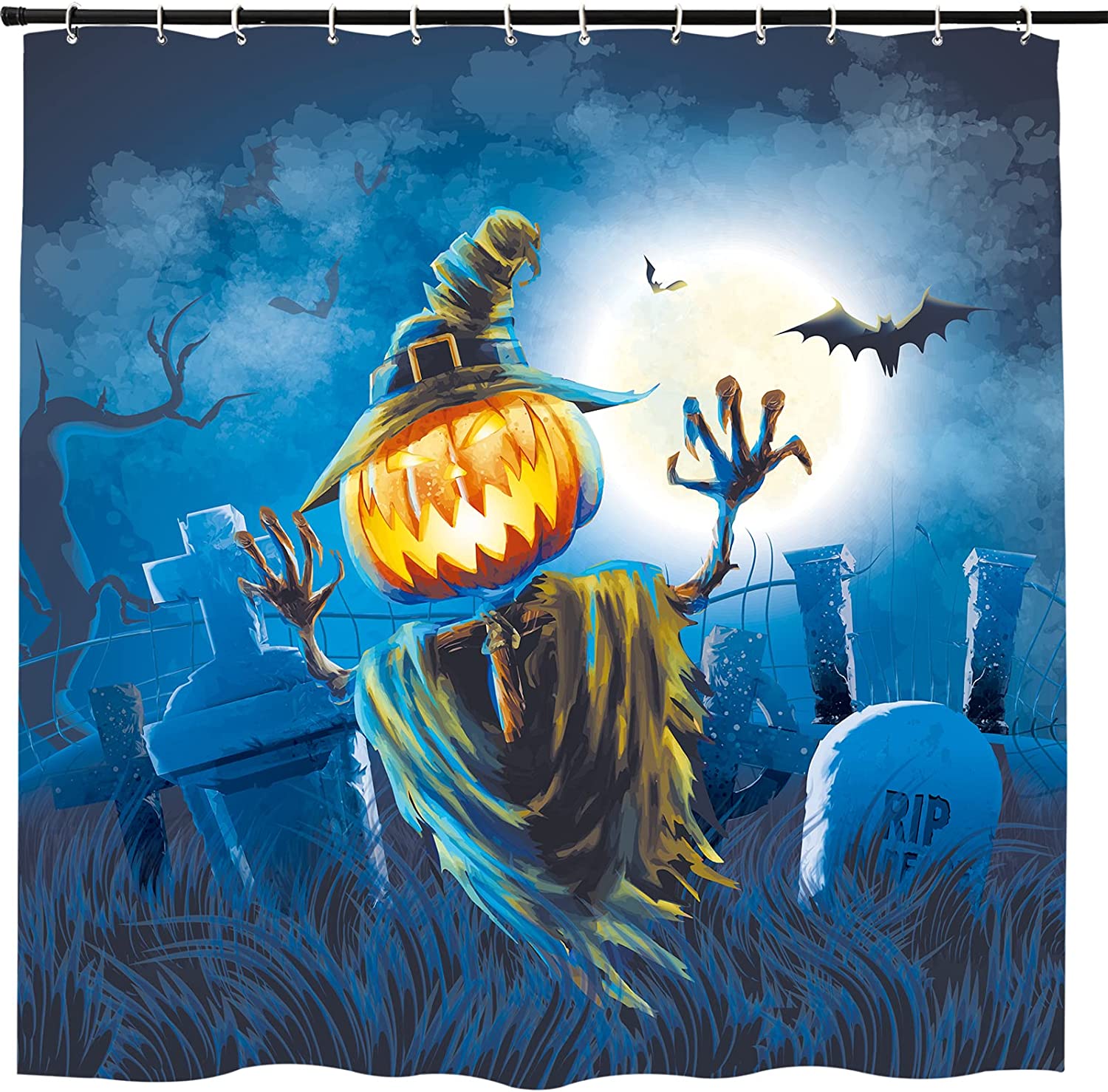 The Five Dancing Skeleton Happy Halloween Doormat is a great way to welcome guests into your home. It's perfect for Halloween parties or haunted homes, and can be used indoors or outdoors.
Made of durable polyester, this doormat measures 18 inches by 28 inches. That is not an expensive Halloween decoration for your house.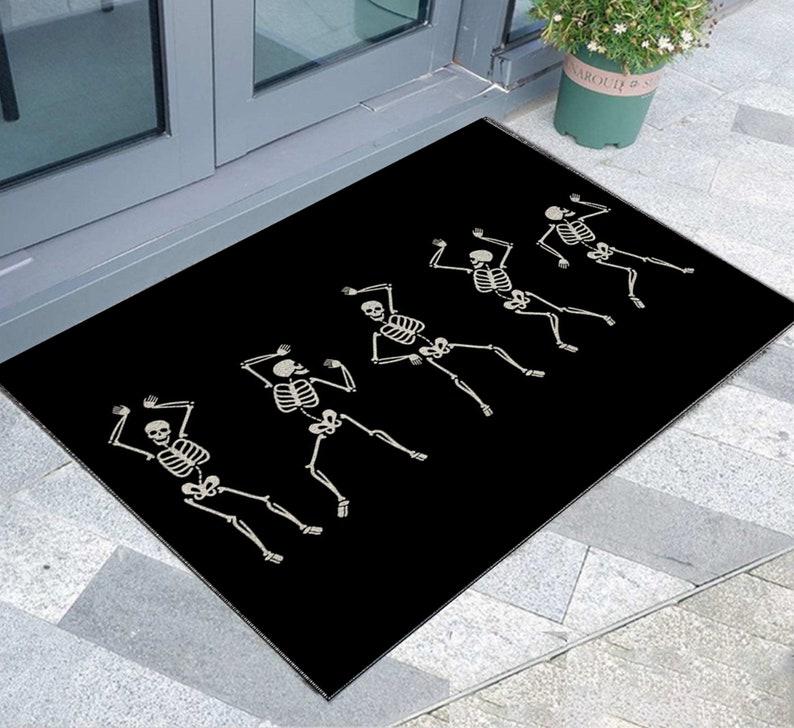 If you're looking for something cute and easy to clean, this Halloween front door decoration is a great option. It's made from high-quality material and is durable enough to stand up against the elements throughout the season. Moreover, it's an adorable addition to any outdoor space!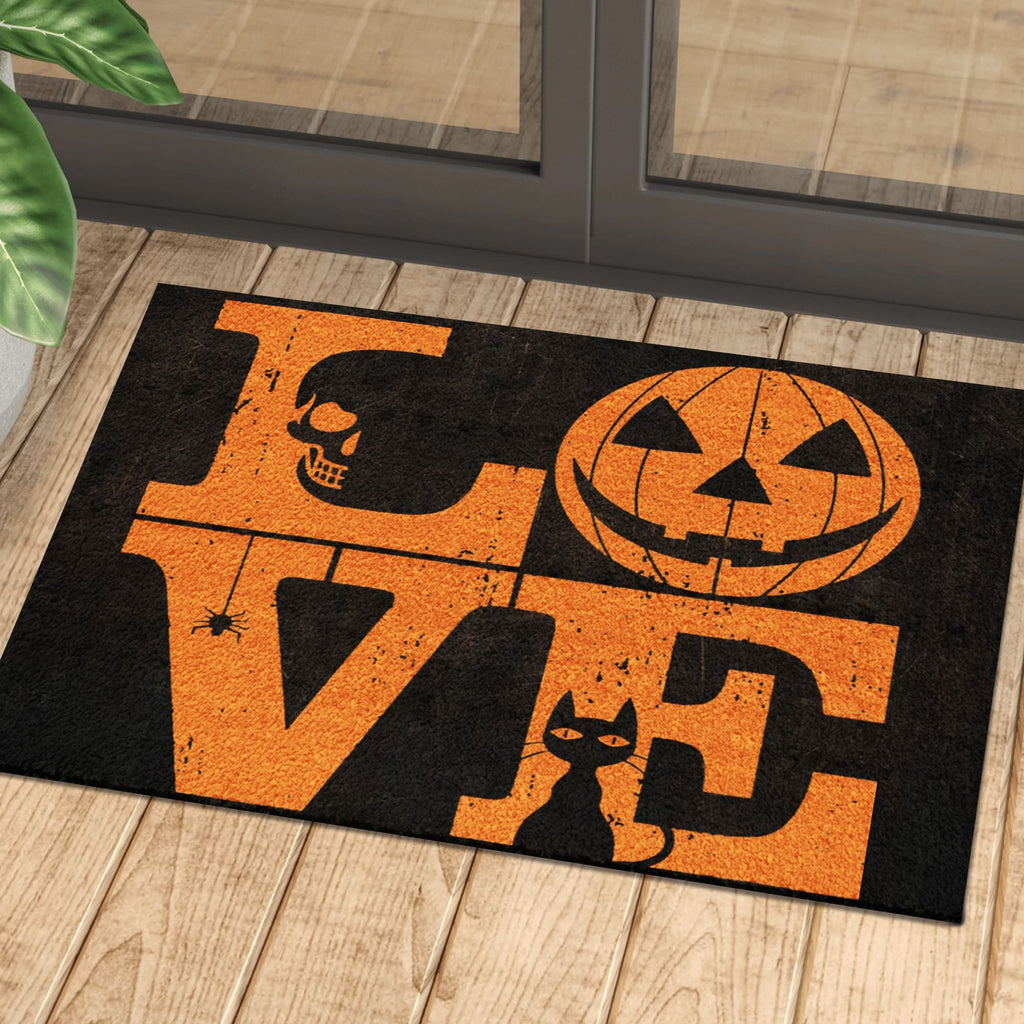 Your front door is the first thing your guests see, so you might as well make a fun entrance with this I Put A Spell On You Halloween Sky Doormat. It's made from polyester and is machine washable so it will be easy to clean after trick-or-treaters come a knocking. Plus, since it's lightweight and durable, you won't have to worry about replacing your doormat every year due to wear and tear.
This is one of those Halloween decorations that everyone can appreciate—it's not just for kids!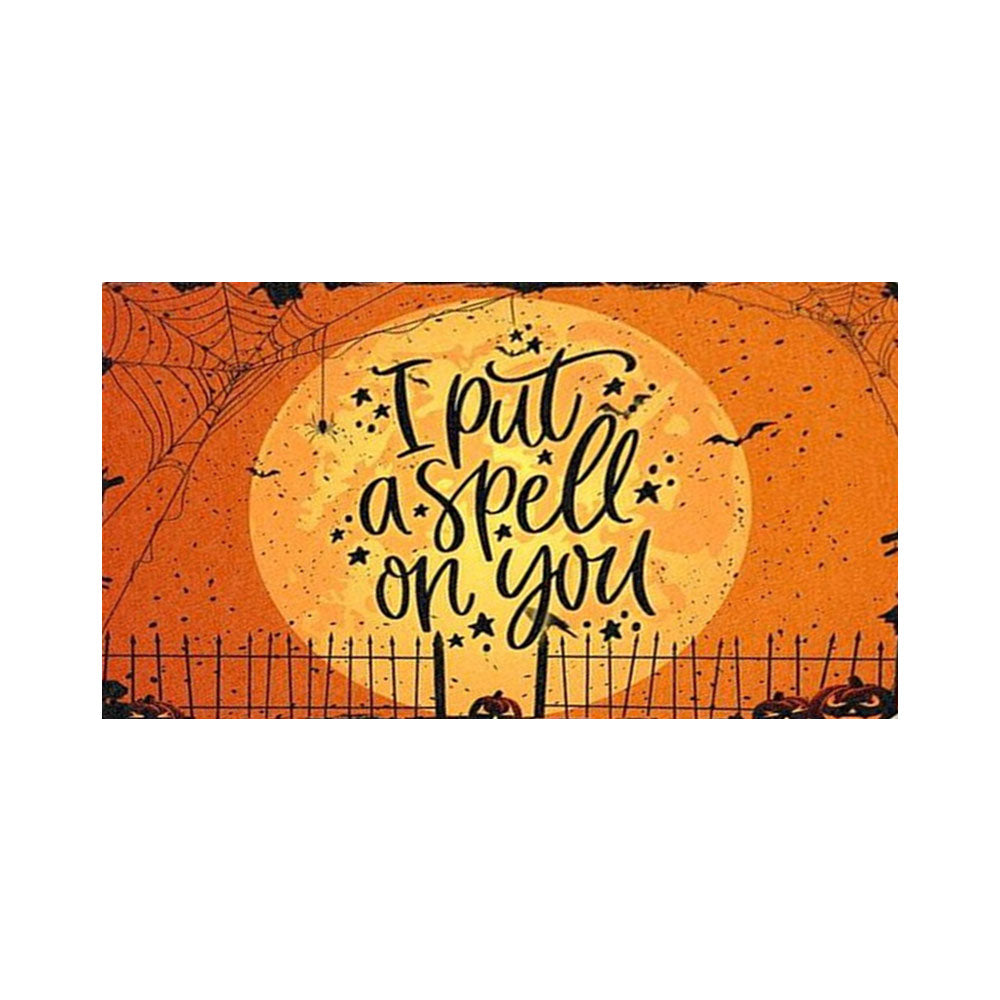 This doormat is the best outdoor Halloween decoration for your house. It has many Halloween inspiration icons like witches, pumpkins, graves … That certainly make your home become special on this Halloween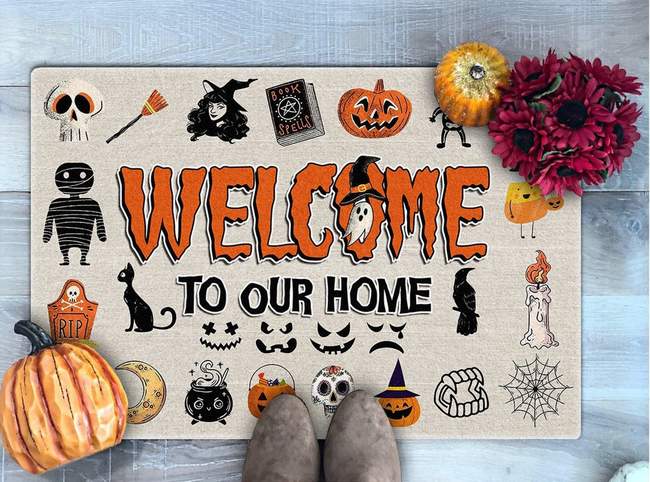 This Halloween doormat is a great way to welcome trick-or-treaters to your home. The doormat features a black and orange design of pumpkins, bats, ghosts and spiders that will really set the mood for all of your Halloween guests. It also comes with suction cups on the back so you can easily attach it to any hard surface outside your house! This doormat measures 24″ x 18″ and is made from plastic.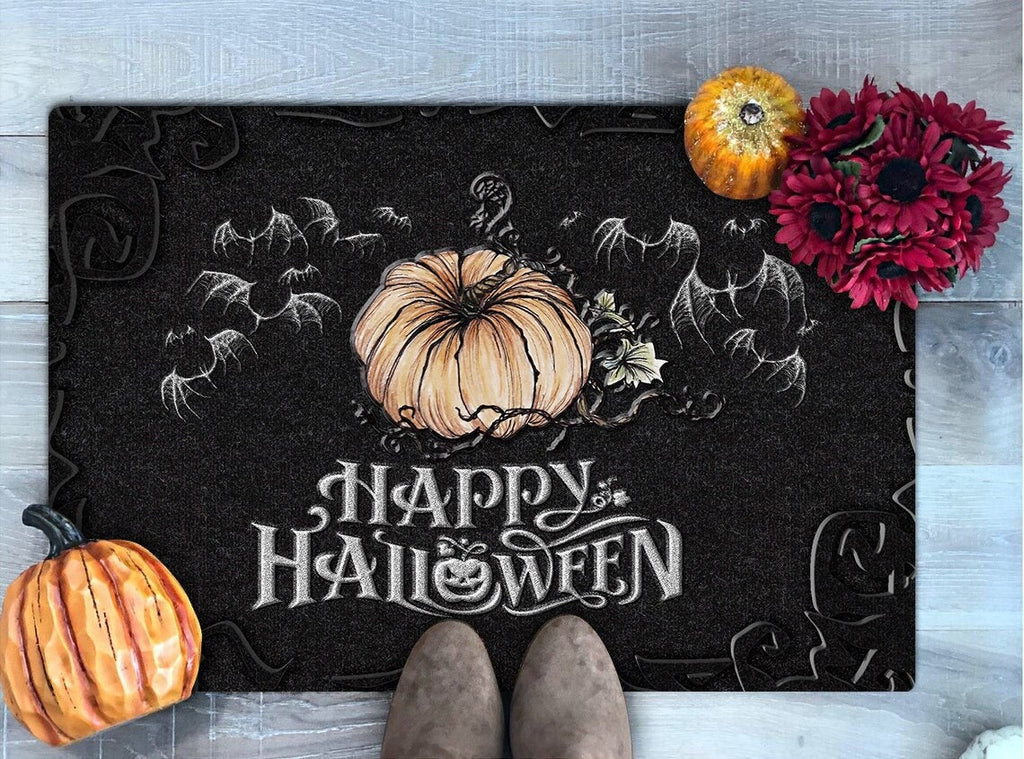 When it comes to welcoming trick or treaters, you'll want to make sure that your home is properly decorated. The Gnomes Welcome Witch Please Halloween Doormat will help you do just that. This doormat is made of durable, heavy duty polyester and is easy to clean. It's also suitable for indoor use.
The design features two gnomes—one holding a pumpkin and the other holding a broom—alongside the text "Gnomes Welcome."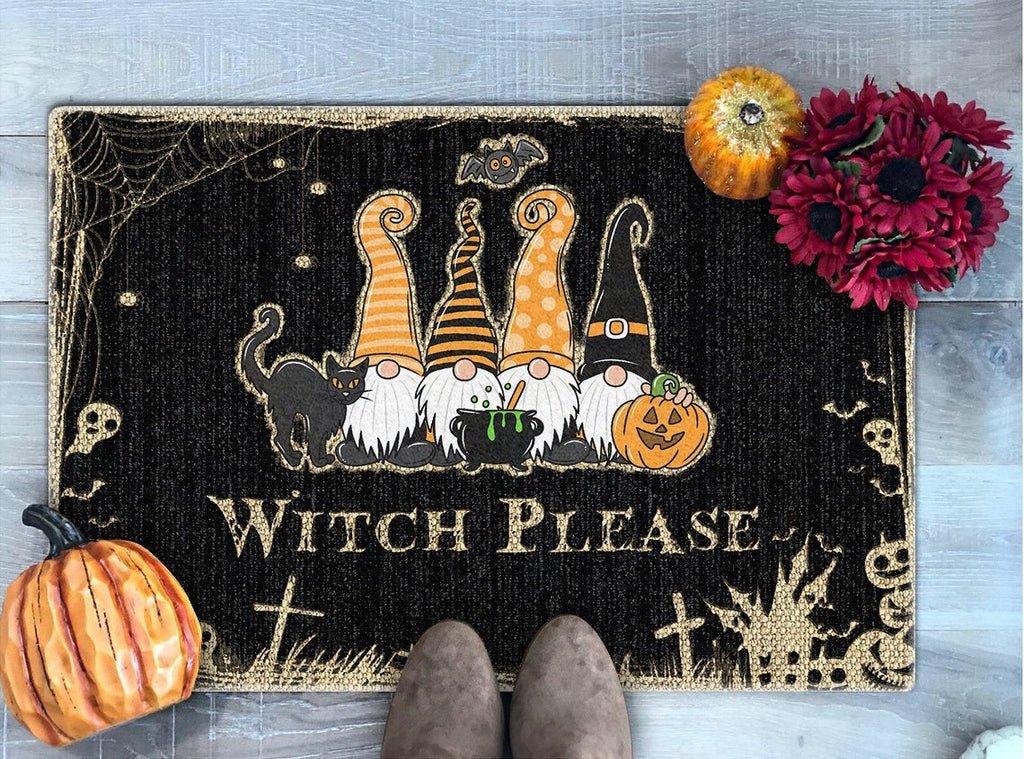 Happy Halloween Stupid Pumpkins Doormat, Halloween Front Door Decoration The classic design of this doormat will fit right in on your porch. With the cute jack o lanterns and the "Happy Halloween" on the front it is sure to be a hit with trick or treaters everywhere!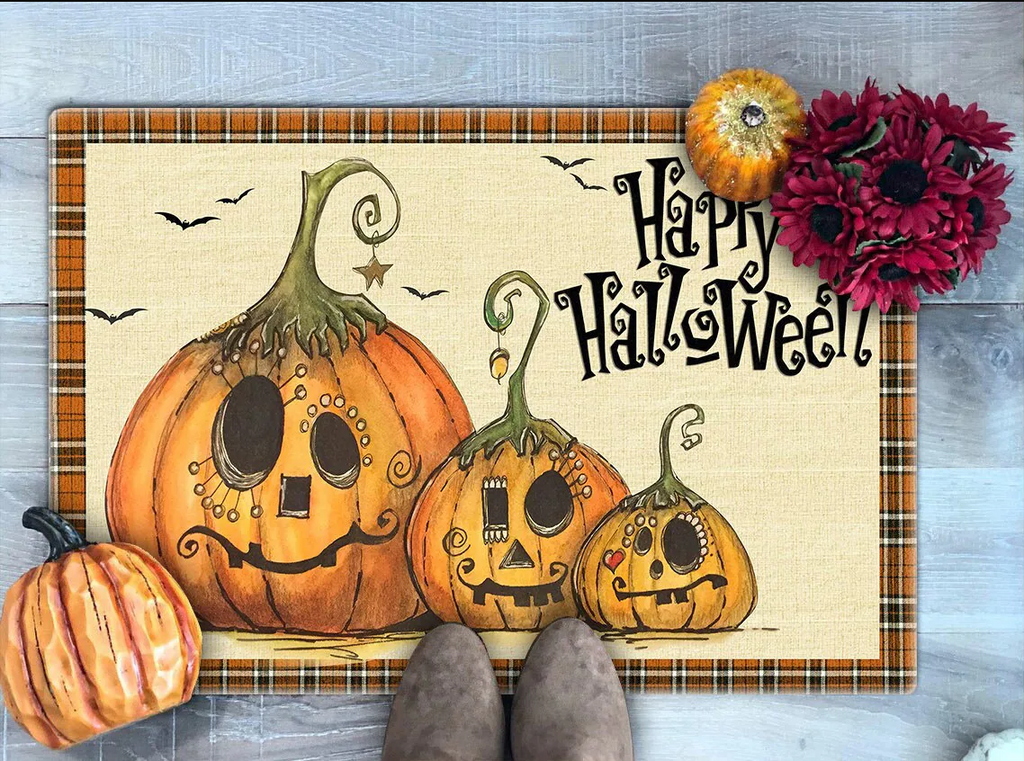 The Home Of A Handsome Devil Wicked Witch And Their Little Monster Cats Costume Halloween Doormat is a great addition to your Halloween decor and will be sure to get some laughs from your guests. It's also a good quality mat, so you'll be able to use it again in the future. If this isn't a gift you'd want for yourself, it makes a great gift idea!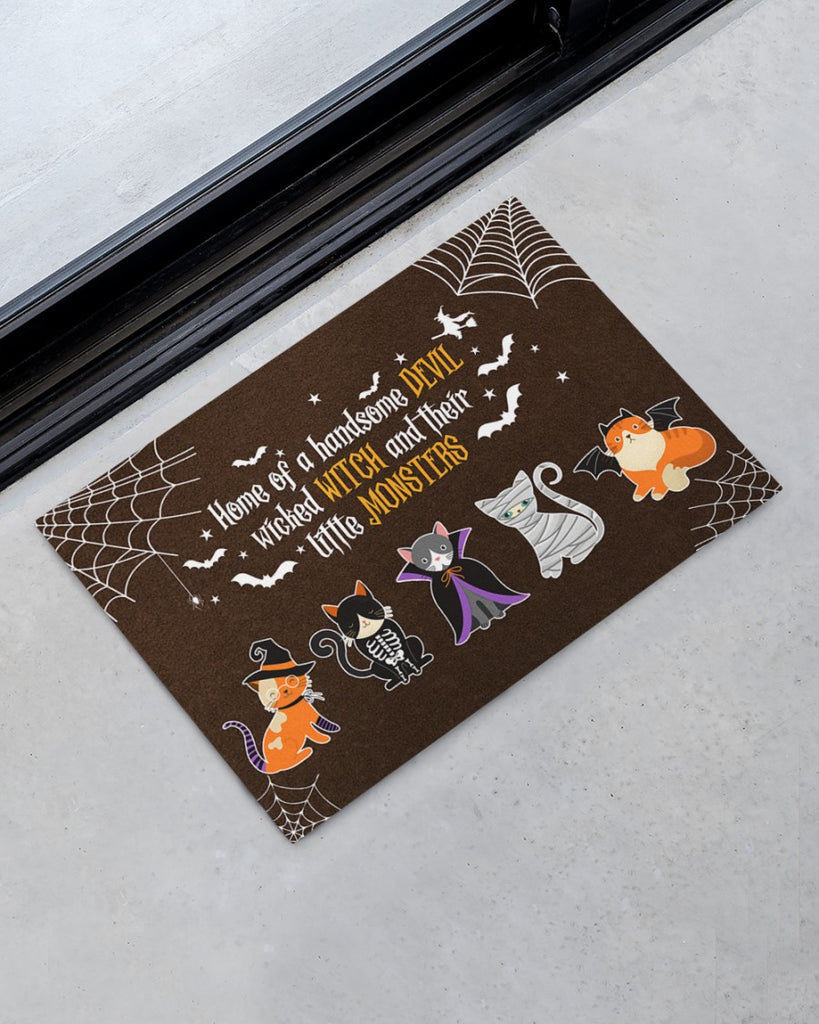 The Rottweiler Warning When Visiting My House Please Remember I Am The Baby Here Halloween Doormat is a great way to welcome guests to your home while letting them know you have a Rottweiler and they should be careful. The doormat is made of rubber and has a nice cushiony feel when you step on it. It's also large enough (24 inches by 18 inches) that it will cover almost any area at the front door, including steps or stoops if necessary.
The best part about this doormat is that it lets everyone know who's really in charge: the rottie!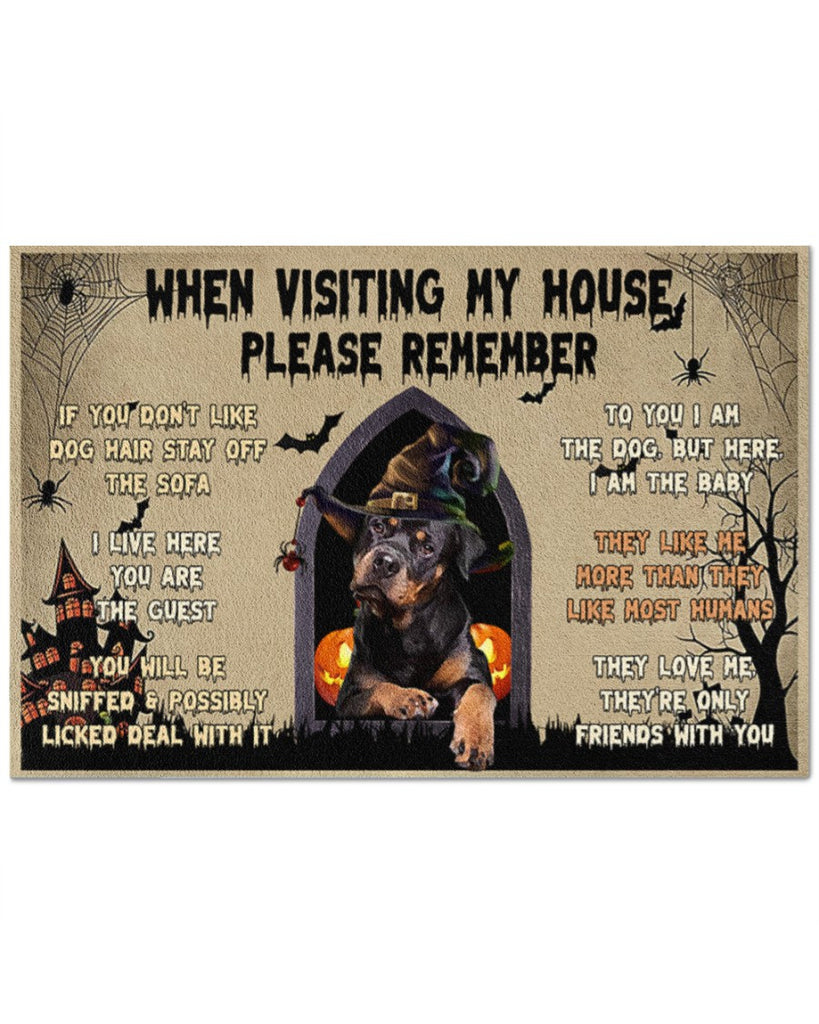 This Dancing And Musical Skeletons Halloween Ghost Doormat is the perfect Halloween decoration for your front door! Not only will it look great, but it will also do wonders as a conversation-starter. The mat features two skeletons—one playing the guitar and one doing some sort of dance?—who are joined by spiders, bats, ghosts and other creepy creatures. The mat folds up for easy storage after you're done displaying it for trick-or-treaters or just when you want to keep your home looking neat.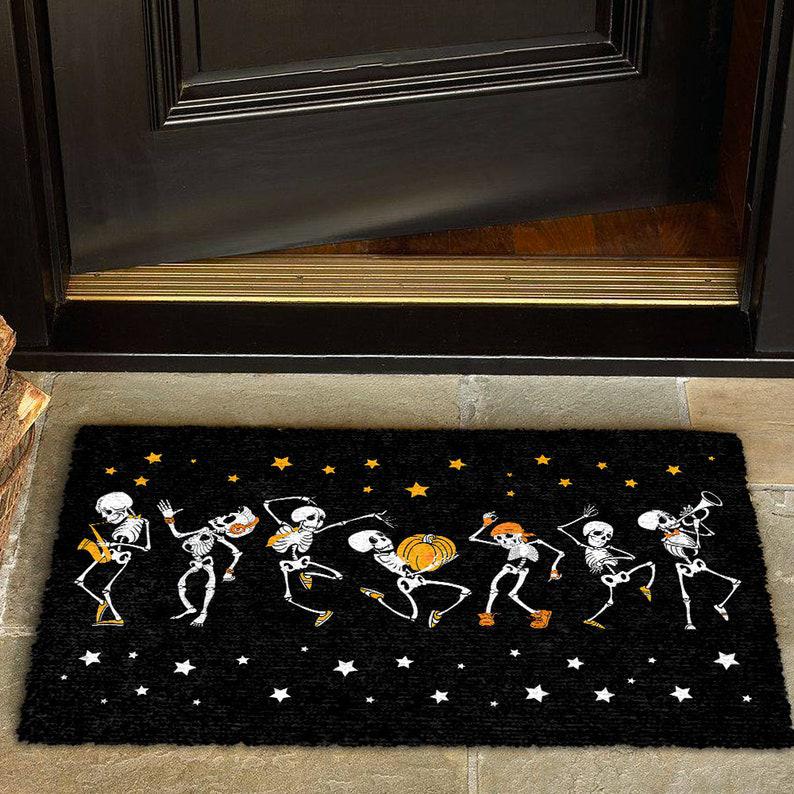 Scary Witch Brooming Under Orange Sky With Horror Pumpkins Halloween Shower Curtain, Halloween bathroom accessories
If you're looking for a beautiful and elegant shower curtain to spruce up your bathroom this Halloween season, consider this one. It features a scary witch broom made of black lace fabric and blue streamers sweeping over an orange sky dotted with horror pumpkins hanging from the clouds. It's available in three sizes: 72"x72″ (unfolded), 50 x70 (folded) and 36×48 (folded).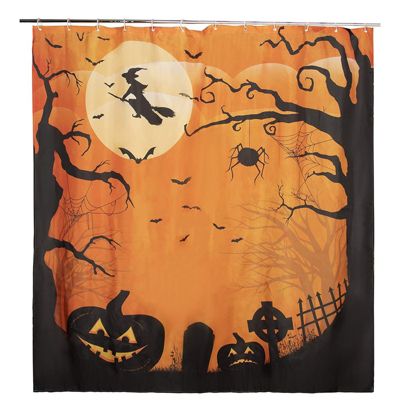 This watercolor little pumpkins on white Halloween shower curtain is a perfect piece of decoration for your bathroom, kitchen and house. It can be hung as a curtain or shower curtain and also used as a table cloth or wall hanging. This product is made in the USA with high quality materials.
This item has been manufactured by BigOven under its original brand name, which means you will be getting an authentic product at an affordable price!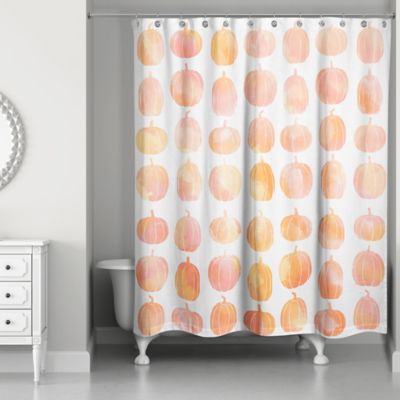 If you are looking for some interesting Halloween decorations to decorate your house, here is a list of unique Halloween Shower Curtains, Bathroom Accessories and other items that will make you feel like you're in a haunted house. These accessories can be used for different purposes such as decorating your bathroom, bedroom or kitchen. These accessories are also great for kids who love to get scared on this day by their friends and family members.
The Halloween Shower Curtain is designed with black bats in the background which look very spooky when it's hanging in front of your tub or shower area. The design is made from 100% polyester fabric which makes it easy to clean and maintain over time without losing its shape or luster even after several years of use! It comes with an optional liner included so you can use both sides if needed depending on how much privacy needs while bathing…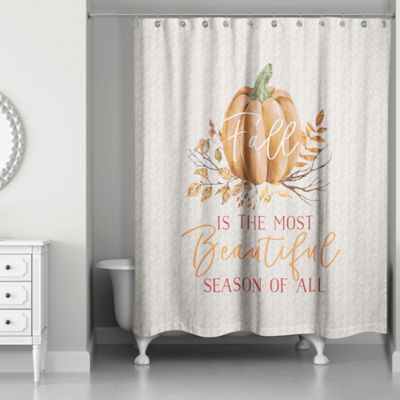 Welcome Our Hotel Of Horrors Halloween Shower Curtain, Halloween Bathroom Accessories
This is a great way to decorate your bathroom and make it look like a "haunted" hotel. The curtain features many different photos of haunted houses and other eerie scenes. It also includes the phrase "Welcome To Our Hotel Of Horrors". This is not only perfect for Halloween season but it would work well during other times of the year too!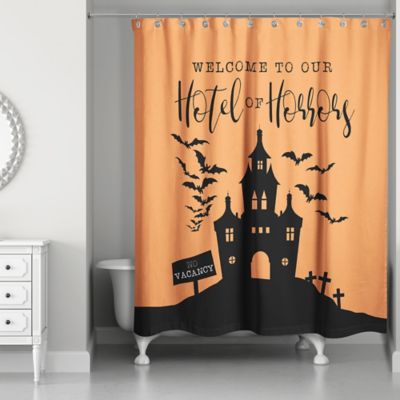 This purple, black and white patterned shower curtain is perfect for adding a little extra color to your bathroom. It also makes a fun decoration for those who are looking for something fun and colorful that can be hung up on the wall or used as the curtain itself.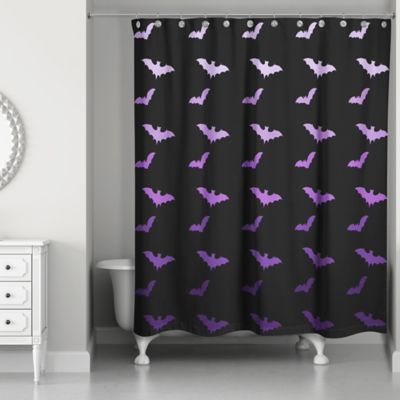 With this Brooming Under Purple Sky Halloween Shower Curtain, you can spruce up your bathroom to get into the spirit of Halloween. The shower curtain is 60 inches long and 72 inches wide. It's made from polyester and machine washable, so it'll last you for years to come! If you're looking for a more purple option, we have an available white one as well. The product is made entirely in the USA—a nice touch that makes this item stand out from those that are imported from overseas factories (and don't have the same quality). We also sell other accessories like towels and bath mats to help complete your spooky look!
All in all? This item is a great deal for its price tag—$30 or less depending on what color combinations are available at any given time."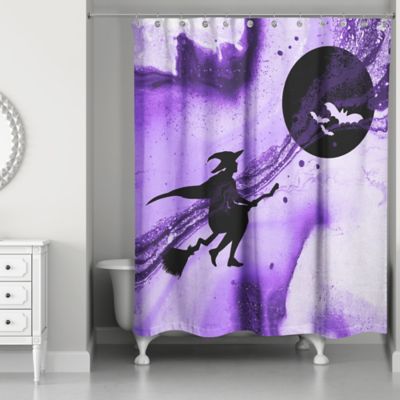 Halloween Bathroom Accessories
The Horror Graves Happy Halloween Shower Curtain is the perfect way to get into the Halloween spirit, whether you're decorating for a party or just want to add some spooky flair to your home. With an array of skulls and crossbones surrounding a graveyard scene, this shower curtain will make any bathroom feel like an eerie graveyard. It's made from 100 percent polyester and measures 70 by 72 inches. The bright colors will look great in almost any bathroom setting!
This product is currently unavailable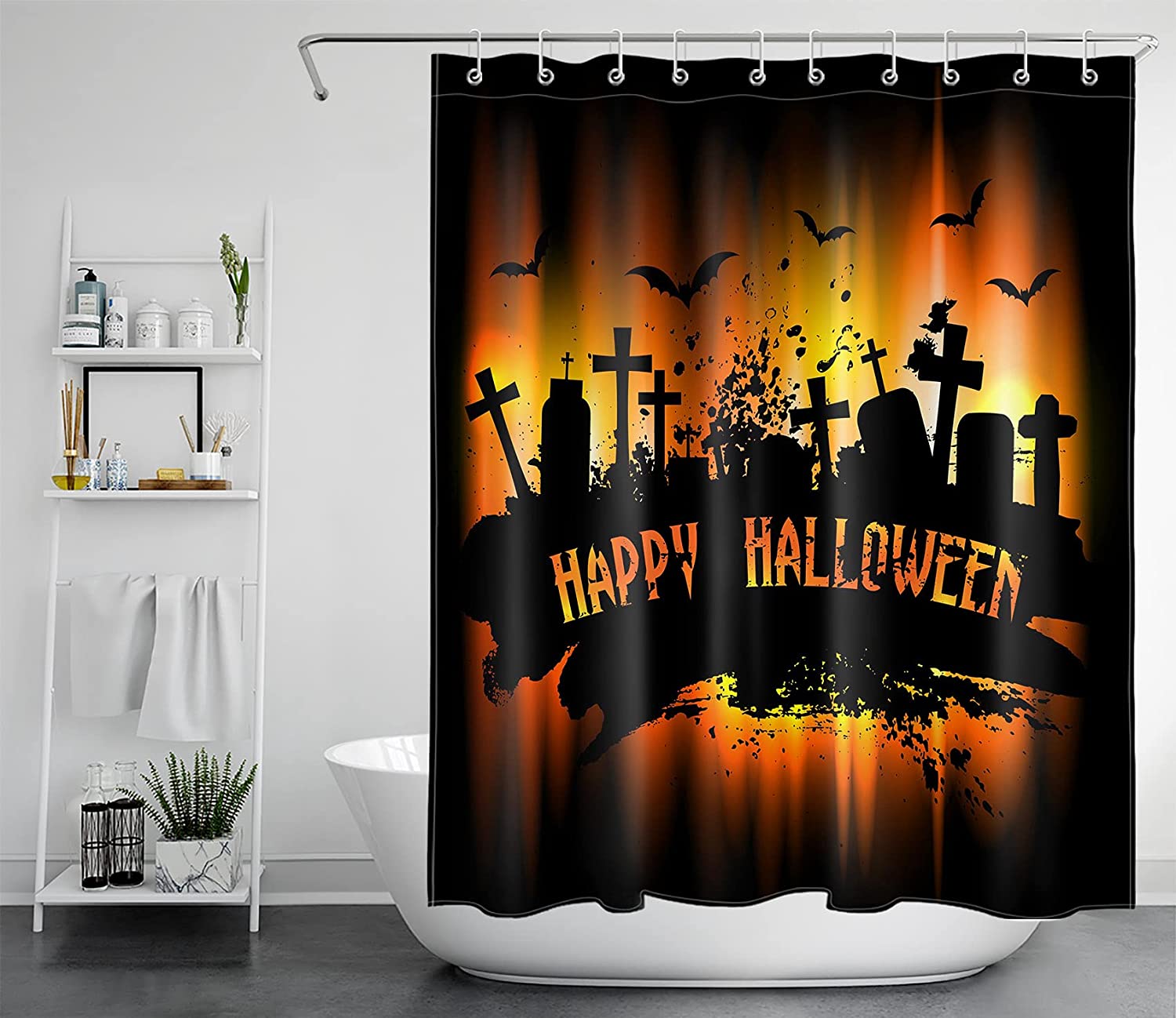 Halloween Eyeball Wreath
If you want to create a wreath that will look great on your front door this Halloween, here's what you'll need:
-Styrofoam balls in black (you can find these at craft stores or buy them online)
-A wire wreath form (or go ahead and make your own using a grapevine wreath frame)
-Hot glue gun and glue sticks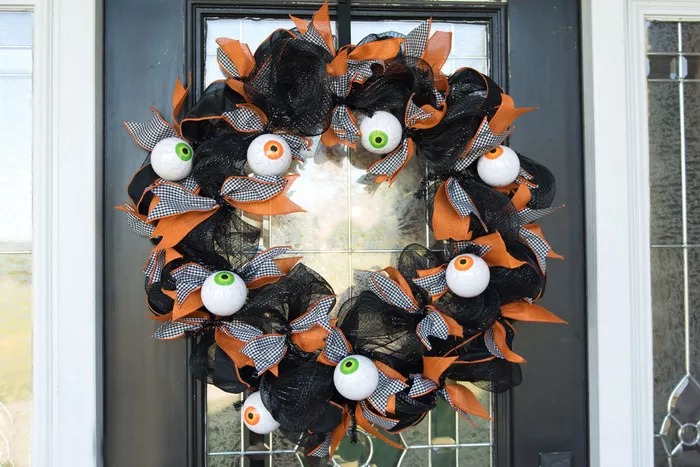 Balloon Ghosts
You can make balloon ghosts in any size, shape and color. They are easy to put together and very versatile for decorating your house for Halloween. You can even use them as Christmas tree ornaments if you want!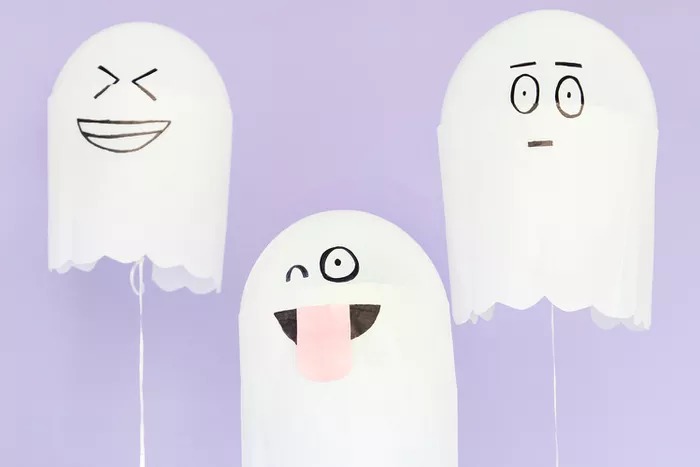 Witch Hat Decorations
Witch hats are a popular Halloween decoration that adds some spooky fun to your home. There are many different styles of witch hats to choose from, so you'll be able to find one that suits the look you're going for in your decorations this year.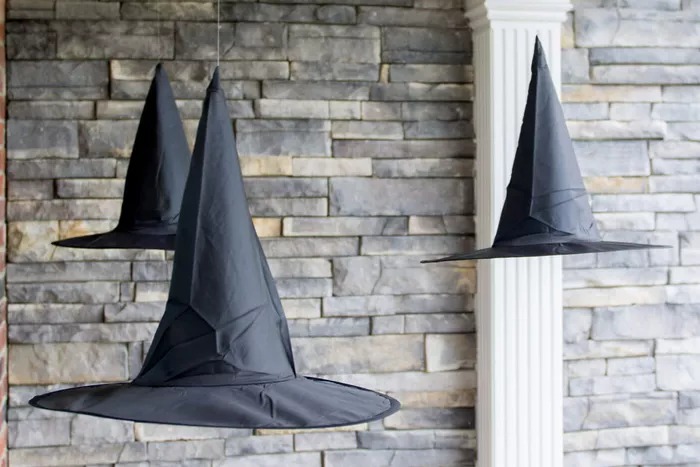 No-Carve Pumpkin People
There's no need to carve pumpkins and turn them into jack-o'-lanterns. Instead, let the sculpted pumpkin people do all the work for you! These adorable little sculptures look like they were handcrafted by a professional artist, but they're actually very easy to make (no carving required!) and come in three different styles: witch, bat, or ghost. Each one is made out of clay and features an intricate face with detailed features such as eyes and mouths. They can be used as centerpieces on your table or as small decor items around your home during Halloween season.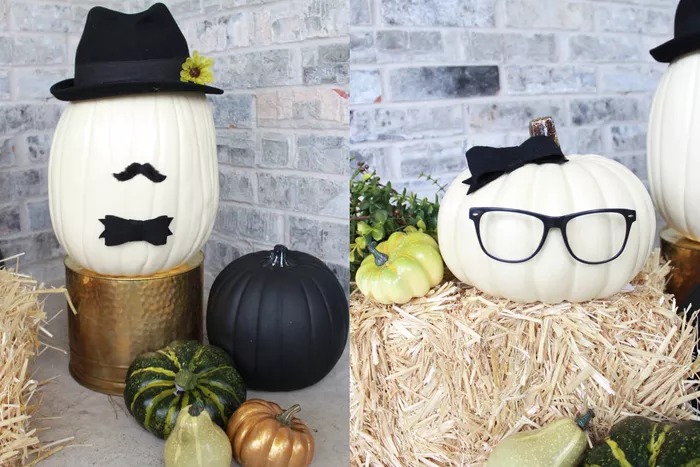 Sugar Skull Lanterns
Sugar skull lanterns are a great way to add some spooky decor to your home this Halloween. You can use them as centerpieces on the table, hang from the ceiling or even place them on your mantle. You can find these lanterns in stores or online and they come in many different sizes and styles. Sugar skull lanterns can be made from paper or plastic; however, if you have little ones at home you may want to opt for paper so that it's not breakable by accident. You can also decorate the lanterns with paint, glitter or other artsy materials as well as place objects inside of them like tea lights or candles!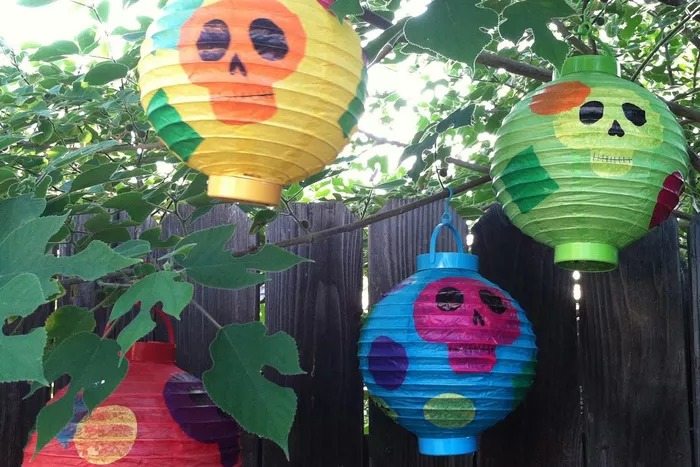 Halloween Tombstones
Halloween Tombstones are a must-have for your Halloween decoration. They can be used as a decoration, or they can be used as props in your Halloween display. These tombstones look great when arranged in a cemetery setting.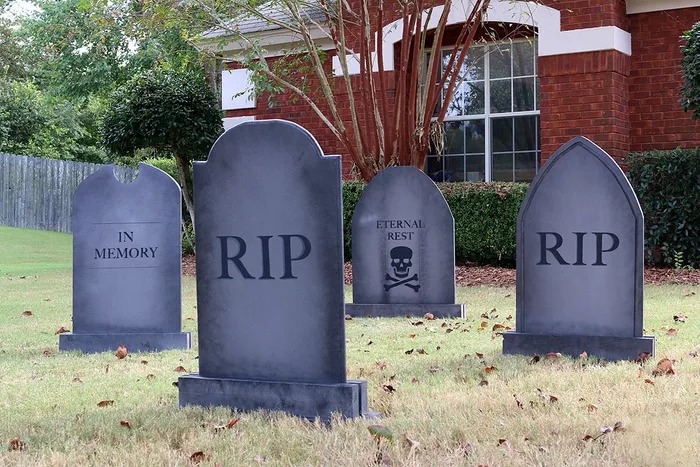 Giant Spiderwe
If you want to spook your guests, but also want something that looks cool, this is the Halloween decoration for you. The Giant Spiderwe is a giant spider with a light-up LED display that can be used indoors or outdoors. It's easy to assemble and easy to clean, so it will last year after year without needing any batteries or maintenance. It's sure to be a hit at any Halloween party!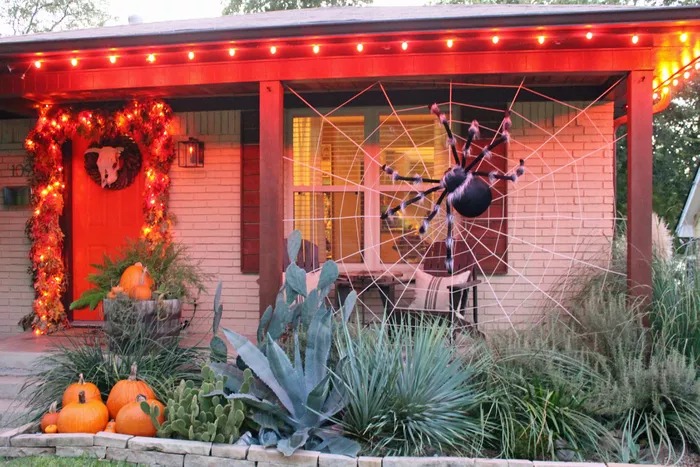 Trick or Treat Signs
Trick or treat signs are a great way to let people know you are open for business. They can be purchased at any major hardware store, but it is also super easy to make one yourself. Make sure your sign is visible from the street and is easy for all ages to read.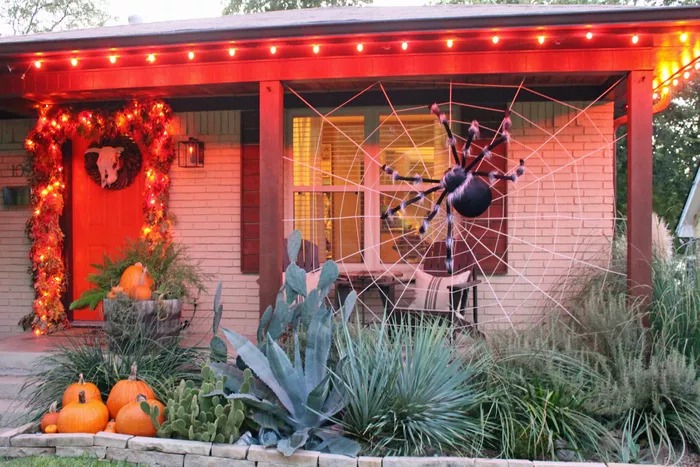 Painting Rocks
Painting rocks is a fun way to decorate your house for Halloween. You can paint them in any design you want; just make sure they're safe for your house and that they're made of materials that are okay with being outdoors all year round. You can paint them however you want, too—you could do them all black and white, or maybe go with some glittery colors. It's up to you!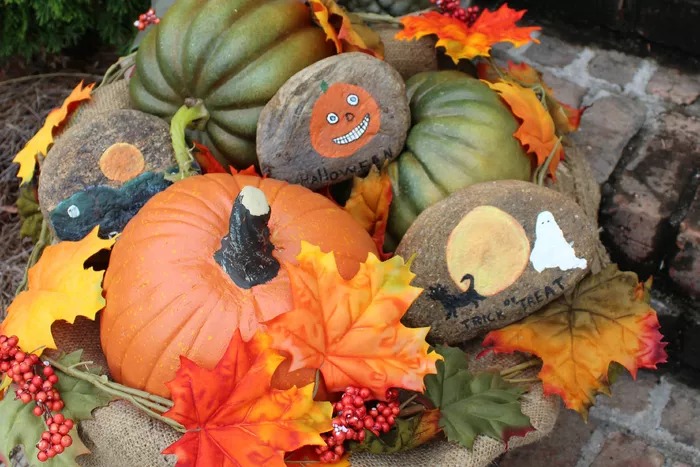 Halloween Countdown Calender
You can create your own Halloween countdown calendar with just a few items. Here's how:
1. Gather the things you will need for this project, including white paper, black marker and pencils, scissors or a craft knife, glue stick and tape dispenser (optional).
2. Cut out a large square from the white paper and make sure it is big enough to fit on your wall—about 4 feet by 4 feet should be fine if you have an average sized home; bigger is better if you want more space to write on! If you don't have access to these tools at home then perhaps check out some local art supply stores in your area. They may have them available for sale as well as classes where they'll teach you how use them properly so that you can accomplish similar projects yourself later down the road when needed."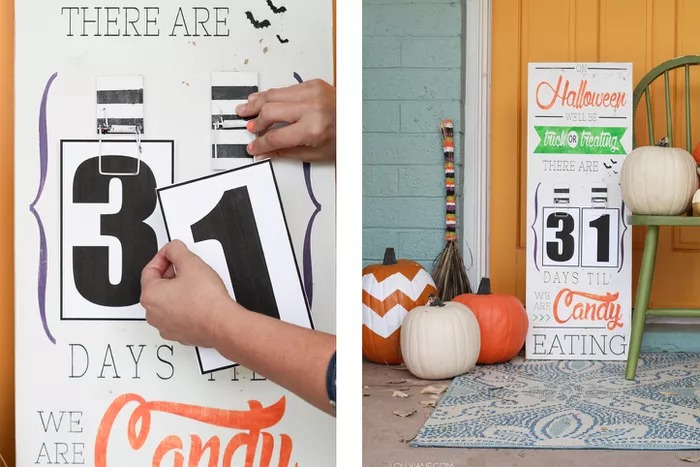 We hope that you've found this list helpful, and that you will choose one or two of these decorations to add a little spooky fun to your home. Happy Halloween!